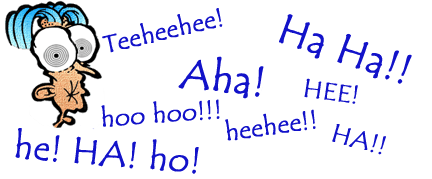 Check out the new things at The Straight Jacket!




Riddle
Two convicts are locked in a cell. There is an unbarred window high up in the cell. No matter if they stand on the bed or one on top of the other they can't reach the window to escape. They then decide to tunnel out. However, they give up with the tunneling because it will take too long. Finally one of the convicts figures out how to escape from the cell. What is his plan?

Answer: His plan is to dig the tunnel and pile up the dirt to climb up to the window to escape.








After hearing that one of the patients in a mental hospital had saved another from a suicide attempt by pulling him out of a bathtub, the director reviewed the rescuer's file and called him into his office.
"Mr. James, you records and your heroic behavior indicate that you're ready to go home." he said. "I'm only sorry that the man you saved later killed himself with a rope around the neck."
"Oh, he didn't kill himself," Mr. James replied. "I hung him up to dry."

The man told his doctor that he wasn't able to do all the things around the house that he used to do. When the examination was complete, he said, "Now, Doc, I can take it. Tell me in plain English what is wrong with me."
"Well, in plain English," the doctor replied, "you're just lazy."
"Okay," said the man. "Now give me the medical term so I can tell my wife."

Jokes Galore Defines FARTS
Here's a handy list to print out and carry with you at all times. Next time ya rip one and someone asks, "what was that?", you can now explain!
Silent But Deadly (SBD) Fart
The type that remains totally inaudible, yet somehow causes all the occupants of a room to collapse. Can smell like anything, nasal investigators rarely have time to distinguish an odour.
Eggy Fart
Smells very much like rotten eggs (or Hydrogen Sulphide). A powerful odor which tends to put people off lunch. Often rips out in the fashion of a Bunbuster.
Windy Fart
The sort of fart which goes 'Whoosh', and is more felt than heard. A little like an SBD, but louder and considerably less toxic.
Growling Fart
Happens deep within the rectum (and therefore has no smell). Somehow never meets the light of day. Tends to growl like a dog at the vets.
Worrying Fart
The kind which seems to be a fart right up to the point at which you release it. At this stage matters become less sure, as it feels too solid for comfort. You go to the bathroom and check your underpants at the next possible opportunity.
Prelude To A Poopie
You feel like you have got a large beefy one, but out comes a tiny squeaker fart, and the head of something massive. You tense your buttocks fast, lest you give birth to the brown equivalent of a zeppelin.
Compost Fart
You know the compost heap that a gardener keeps at the bottom of the garden? Well if you jump on it you will have some idea of what a compost fart sounds and smells like. Do not attempt this one while you have company.
Beefy One
Sounds loud, and butch eg. 'BRAAAAMMPPP!'. Will smell a bit like the rotting offspring of a B.S.E infected cow and a dogturd.
Read the rest of this list at Jokes Galore

Return to The Straight Jacket home