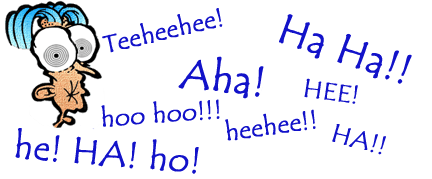 Will the real dummy please stand up?



Police in Wichita, Kansas, arrested a 22-year-old man at an airport hotel after he tried to pass two (counterfeit) $16 bills.


A man in Johannesberg, South Africa, shot his 49-year-old friend in the face, seriously wounding him, while the two practiced shooting beer cans off each other's head.


The Chico, California, City Council enacted a ban on nuclear weapons, setting a $500 fine for anyone detonating one within city limits.


A bus carrying five passengers was hit by a car in St. Louis, but by the time police arrived on the scene, fourteen pedestrians had boarded the bus and had begun to complain of whiplash injuries and back pain.


Police in Radnor, Pennsylvania, interrogated a suspect by placing a metal colander on his head and connecting it with wires to a photocopy machine. The message "He's lying" was placed in the copier, and police pressed the copy button each time they thought the suspect wasn't telling the truth. Believing the "lie detector" was working, the suspect confessed.


When two service station attendants in Ionia, Michigan, refused to hand over the cash to an intoxicated robber, the man threatened to call the police. They still refused, so the robber called the police and was arrested.


A Los Angeles man who later said he was "tired of walking," stole a steamroller and led police on a 5 mph chase until an officer stepped aboard and brought the vehicle to a stop.


AT&T fired President John Walter after nine months saying he lacked intellectual leadership. He received a $26 million severance package. Perhaps it's not Walter who's lacking intelligence.


Police in Oakland, California spent two hours attempting to subdue a gunman who had barricaded himself inside his home. After firing ten tear gas canisters, officers discovered that the man was standing beside them, shouting out to give himself up.


An Illinois man, pretending to have a gun, kidnapped a motorist and forced him to drive to two different automated teller machines. The kidnapper then proceeded to withdraw money from his own bank account.


Fire investigators on Maui have determined the cause of a blaze that destroyed a $127,000 home last month - a short in the homeowner's newly installed fire prevention alarm system. "This is even worse than last year, "said the distraught homeowner, "when someone broke in and stole my new security system..."


A man walked into a Topeka, Kansas Kwik Shop and asked for all the money in the cash drawer. Apparently, the take was too small so he tied up the store clerk and worked the counter himself for three hours until police showed up and grabbed him.


In Ohio, an unidentified man in his late twenties walked into a police station with a 9-inch wire protruding from his forehead and calmly asked officers to give him an X-ray to help him find his brain, which he claimed had been stolen. Police were shocked to learn that the man had drilled a 6-inch deep hole in his skull with a Black & Decker power drill and had stuck the wire in to try and find the missing brain.


Police in Los Angeles had good luck with a robbery suspect who just couldn't control himself during a lineup. When detectives asked each man in the lineup to repeat the words, "Give me all your money or I'll shoot", the man shouted, "That's not what I said!"


A bank robber in Virginia Beach got a nasty surprise when a dye pack designed to mark stolen money exploded in his Fruit-of-the-Looms. The robber apparently stuffed the loot down the front of his pants as he was running out the door. "He was seen hopping and jumping around with an explosion taking place inside his pants," said police spokesman Mike Carey. Police have the man's charred trousers in custody.


A man spoke frantically into the phone, "My wife is pregnant and her contractions are only two minutes apart!" "Is this her first child?" the doctor asked. "No, you idiot!" the man shouted, "this is her husband!"


In Modesto, CA, Steven Richard King was arrested for trying to hold up a Bank of America branch without a weapon. King used a thumb and a finger to simulate a gun but unfortunately he failed to keep his hand in his pocket.


A nurse was on duty in the emergency department, when a punk rocker entered. This young woman had purple hair styled into a mohawk, a variety of tattoos and strange clothing. It was determined that the patient had acute appendicitis and was scheduled for immediate surgery. When she was completely disrobed on the operating table, the staff found that her pubic hair had been dyed green, and above it was a tattoo reading, "Keep off the grass." After the prep and the surgery, the surgeon added a small note to the dressing which said, "Sorry, had to mow the lawn."




Return to The Straight Jacket home